Wood-Mode says quality materials like walnut are the heart of luxury
January 14, 2016 | 3:02 pm CST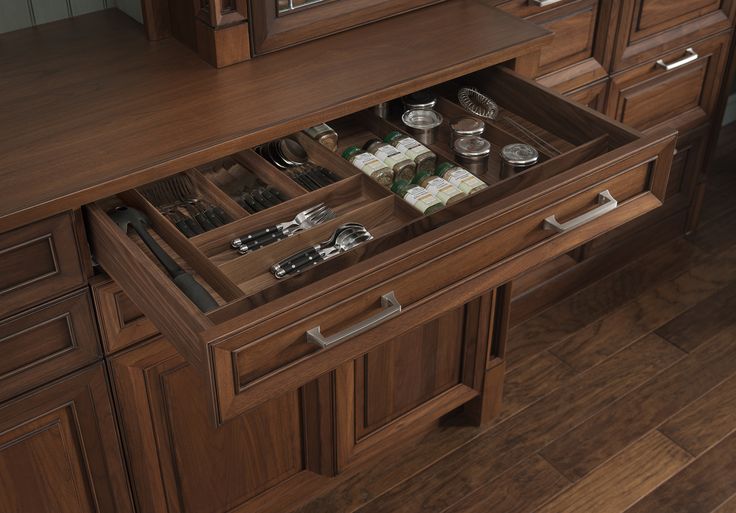 High-end cabinet manufacturer Wood-Mode believes homeowners are opting for a longer-term investment in their home interiors, and can weigh the benefits of quality materials.
Walnut is one such material and joins the extensive list of Wood-Mode custom cabinetry options. Homeowners and designers can now choose walnut in a variety of door styles and finishes designed to bring out the best possible aesthetic.
"This hardwood surpasses cherry and maple in terms of luxury," said John Troxell, Wood-Mode director of design. "We have offered walnut as a premium option in our cabinetry for years but have never before incorporated this broad of an offering." The Pennsylvania-based company prides itself on craftsmanship and hand-made quality custom work, using what it says are the best resources and fabrication techniques for its wide array of products. From solid woods to specialty veneers to laminates, the process starts with luxury materials.
An Unmistakable Hardwood
Walnut is a straight-grained hardwood. Strong and stable, it can be found in a variety of applications,and is often used for upscale furniture and decorative pieces as it can withstand a high level of carving and manipulation. Coveted for its rich graining, the species is instantly recognizable for its classic elegance and array of colors, ranging from dark brown to yellow depending on its location in the trunk of the tree. Its variation in pattern knots offer designers and homeowners a unique and unmistakable product and the opportunity to create an equally unique kitchen, butler's pantry, office or showpiece bath.
Toulon
A Wood-Mode Toulon style pantry crafted from walnut.
A prime example of the luxury and elegance accomplished through walnut is the Wood-Mode Toulon door style. The classic mitered frame construction features beveled interior profiles and gives elegance to both the raised and recessed center panels. A raised panel contour provides a counterpoint to the frame while both the raised and recessed panel versions move easily between transitional and traditional environments.
While available in cherry, maple, oak and quarter sawn oak, Toulon comes to life in walnut. Exuding heritage and tradition, walnut allows an aged look to be applied to new cabinetry.
New Walnut Finishes
Wood-Mode offers a wide variety of colors and finishes. The following colors pair especially well with walnut, each creating a distinct design style:
Winter Sky (Matte): This matte finish gains additional character when paired with walnut. The color plays off the natural graining of the wood, giving a slight blue or purple undertone. The gray stain over it accentuates the natural variety and pattern to the walnut grain, providing a softness and intricacy to the wood.
Wood-Mode's Winter Sky (Matte) finish.
Twilight (Matte):This matte finish somewhat masks the graining and look of walnut, giving more subtle character to the grain and some dimension through its ticking pattern.
Potomac (Burnished): This burnished finish celebrates the diverse look gained through the natural graining of the wood. The resulting patina gives it a slight look of high polished teak.  
Have something to say? Share your thoughts with us in the comments below.